A note from Upstream Arts Artistic Director, Matt Guidry
I remember the moment I first recognized the empowerment that creativity in expression can offer.
It was in a dance studio, where I was working with a company of dancers. My 5-year-old son, Caleb – who is non-verbal and had just learned to walk – watched us intently. He circled the room to observe us from different angles. Then he approached the mirror and began to mimic our movements. We responded with more movement, and it soon became a back-and-forth dialogue.
At that moment, a new possibility for communication opened up for him, and for me.
Twenty years later, Caleb's confidence and creativity are infectious. His language of movement, of dance, may be abstract; but if you listen closely, it's not hard to understand.
In 2006, Julie and I created Upstream Arts, because Caleb reminded us that the core of communication is give and take, listening and responding – and the arts provide a perfect arena for practicing these basic human interactions. Upstream Arts now impacts thousands of people of all ages and abilities annually. But for every one classroom that we work in, there are 3 or 4 more classrooms in the same school that we could be engaging. The fact is, we're barely scratching the surface. In 2016, our 10th Anniversary Year, we are poised to expand our reach and our scope, affecting the lives of so many more individuals with disabilities. And we need your help; you, our community, who have been so critical to our momentum.
Can you make a special 10th Anniversary gift to Upstream Arts? 
No matter what amount you choose to give, you're moving this work upstream into the next 10 years. Thank you for your belief and support.
Other Ways to Give
You can always make safe, secure online credit card donations to Upstream Arts via
Razoo
or 
GiveMN
. Both of these platforms also let you network with other fans of Upstream Arts, promote Upstream Arts to your friends and family by email or through Facebook, and even set up a fundraising page in support of Upstream Arts!
We always welcome donations by mail. Please make checks payable to Upstream Arts, Inc. and mail, along with your preferred contact information, to:
Upstream Arts
3501 Chicago Ave S
Minneapolis, MN 55407
USA
Did you know that you can support Upstream Arts every time you search the internet or shop online? Simply visit 
Amazon Smile
, 
GoodSearch.com
, or 
iGive.com
 and designate Upstream Arts as your charity. We'll receive a donation each time you do a search or make a purchase.
Also, if you buy toner or ink for your home or business printers, each purchase can help support Upstream Arts, you can contribute to Upstream Arts without spending any extra money. Simply purchase your toner and ink through Image One's Toner for Autism Program! Visit TonerForAutism.com and select Upstream Arts at checkout. We will receive 5% of all proceeds from your toner and ink purchases.
Donate your car to Upstream Arts through
Cars with Heart
. Donating will allow you to receive a tax deduction, eliminate the hassle of selling your vehicle, as well support Upstream Arts.  Visit the
Cars with Heart
website to fill out their online vehicle donation form. You may also call Upstream Arts at (612) 331-4584 for assistance with your car donation.
If you work for an organization that has a matching gift program, you can double the size of your donation to Upstream Arts. Many companies match gifts from current employees, as well as gifts from retired employees, spouses, or members of their Board of Directors. Check with your employer's Human Resources Department to learn about matching gift policies, and feel free to contact Upstream Arts by phone at (612) 331-4584 with any questions.
If you would like to learn more about how your donation to Upstream Arts can honor a family member, friend, or other special relationship, please call Upstream Arts at (612) 331-4584. We would be happy to assist you in establishing a memorial or tribute gift.
If you would like to support our work in a way not listed here, please feel free to contact us at (612) 331-4584. We would be happy to discuss possibilities with you!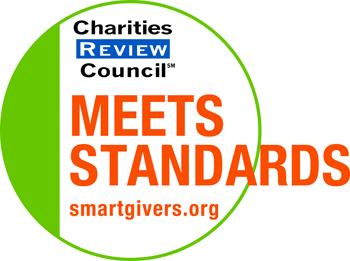 We are honored to have earned the "Meet Standards" seal from the Charities Review Council! To learn more about what that means, click here.
EIN: 20-4451219
Top image: Matt and Caleb at Upstream Arts' first Annual Meeting and Fundraiser, 2014. Photo by David Luke.