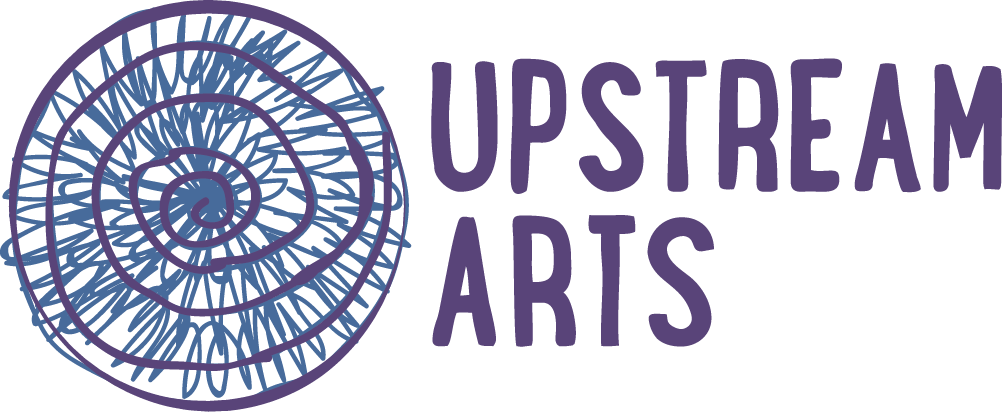 In recent years and especially during our 10 Year Anniversary, Upstream Arts has been doing a lot of in-depth reflection on where we've been, where we're heading, and what we value. As part of that reflection, we've been working toward updating our visual identity and language, to clarify and better convey our mission, vision, values, beliefs, and culture to the communities that we serve and to the wider world.
Nearly one year ago, we began working closely with graphic designer and Upstream Arts supporter, Brian Marx, on a logo redesign process. In our ten years of growth and evolution as a nonprofit organization, we had never once changed our logo – so this moment was long coming, and also felt like a really big deal!!
As part of this process, we asked our teaching artists, staff, and Board, plus a sampling of our participants, partners, and supporters, to complete a survey about their relationship to Upstream Arts. Among other questions, we asked what they currently love and value about Upstream Arts, how they describe our work, and in what ways they'd like to see us grow in the coming years.
Here are some word clouds made from responses to a couple of the questions.
Describe Upstream Arts in three words:
What are Upstream Arts' biggest strengths?
You can also read select responses to the question What's one of your favorite Upstream Arts moments? in an earlier post on this blog.
Our designer, Brian, absorbed all of this input along with the artistry and energy of our programs and The Art of We: Upstream Arts 10th Anniversary Celebration and Fundraiser this past May, as he began drafting new logo designs. He took note of fonts and other design elements that we already had started refreshing in our materials over the past few years. He talked through accessibility considerations with us, such as the logo's readability when it is reduced in size or printed in grayscale.
Some of the goals for the logo that we discussed along the way included:
Conveying both the joyful play and the structured, curriculum-based professionalism of our programs.
Representing the vast breadth and depth of our work – serving individuals with all kinds of disabilities, of all ages, through a wide range of artistic disciplines.
Embodying our contagious energy, inclusive vision, and broad impact as we move into our next decade as an organization.
As Brian generated design ideas, he met with the Upstream Arts leadership team approximately every other month to hone in on the concept, discuss what was working and what wasn't, and look at many variations of different possibilities together. And now, ten months later, we're so thrilled to share the result of this process.
We already let the cat out of the bag above, but just for fun – here it is again – our new official logo: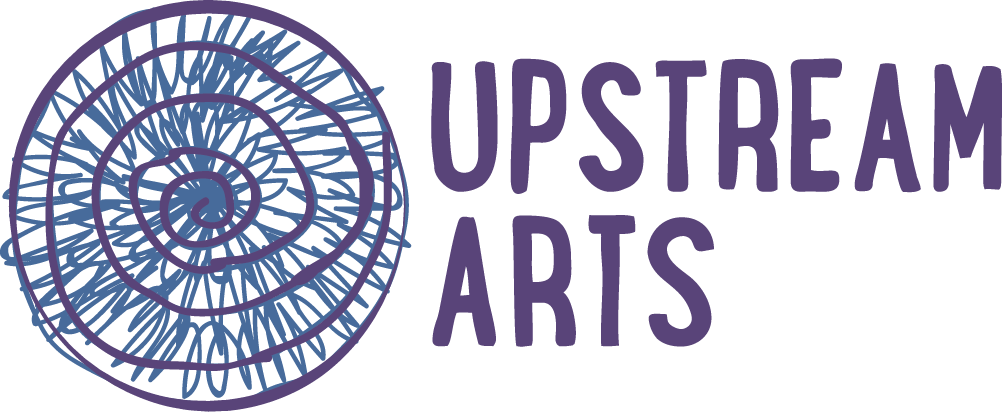 Contained within a simple structure, our energy is bursting outward, moving towards a future of true inclusion, toward a change in mindset about ability and disability. Ten years ago, we felt like we were moving against the current. Today we're riding a wave of ideas, an emerging movement that uses the creative arts to share who we are, connect with those around us, and engage everyone in our communities.
We're so glad to have you as a part of the Upstream Arts community. We hope you feel the energy of this new logo, and this next chapter, as much as we do!
– Upstream Arts Staff, Teaching Artists, and Board
Coming up next: We've also been refining the language of our mission, vision, values, and beliefs! Stay tuned for another very exciting update on all that goodness, to follow soon.