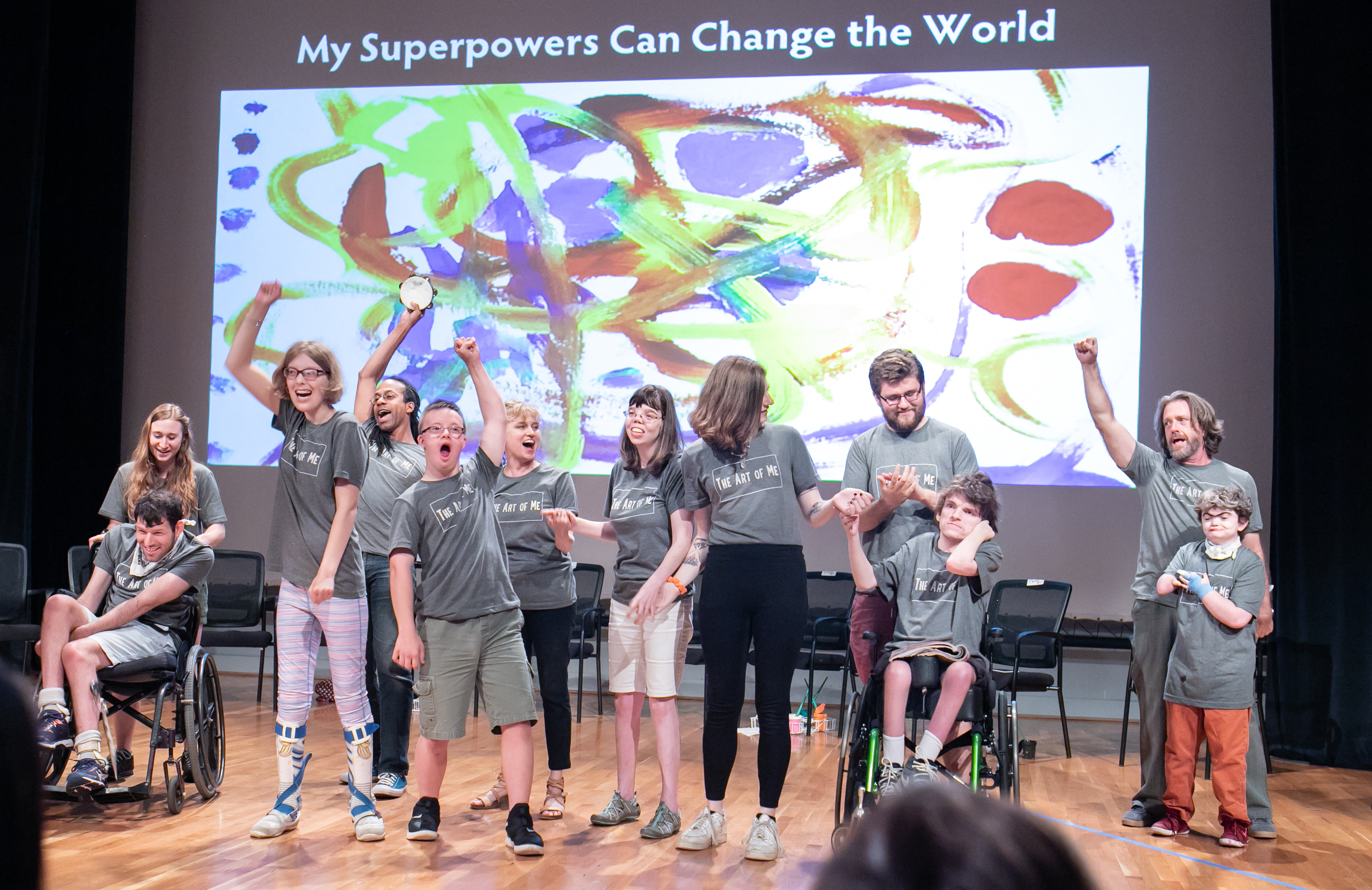 On Wednesday, July 17 our community gathered at the Minnesota History Center for a celebration and performance. This high-energy event was the culmination of three artistic residencies carried out between Highland Friendship Club and creative partners Upstream Arts, Cow Tipping Press, and Mike Nichols Video. 
Attendees first enjoyed a reception celebrating the 29th anniversary of the passage of the Americans with Disabilities Act, followed by the collaborative performance. Artists from Upstream Arts and Highland Friendship Club wove together scenarios, songs, rhythms, painting and dance, often using poetry and stories that were written during the Cow Tipping Press residency as inspiration. Poets from the Cow Tipping Press workshop were interspersed amongst these scenes, sharing their poems, as well as videos from HFC TV, the crew who worked with Mike Nichols Video during his workshop. 
Enjoy a few of the highlights through the following photos by Jason W. Bucklin Photography:
Performers began the evening with a song: "I know that there's a place for us for we are GLORIOUS. This. Is. Me."
Throughout the evening, performers used songs, movement, scenarios, rhythm, and painting to express themselves.
HFC TV, the crew of participants who worked with Mike Nichols Video during his workshop, captured one of the poets sharing her writing, which was projected between live scenes.
Using movement, shape, and dynamic variables, the artists told stories, sometimes engaging in theatrical scenarios and sometimes in more abstract ways.
One of the poets who participated in the Cow Tipping Press workshop shared her poem entitled "People."
Just as a conductor would lead an orchestra, one of the performers conducted rhythm and poetry vocalizations from the ensemble.
Performers transformed movement and sound into visual art as they painted in response to their fellow artists.
The evening closed with a rousing grand finale song: "My Superpowers Can Change the World."
The audience responded to the performance with a resounding standing ovation. Each person received a copy of the chapbook full of writings created during the Cow Tipping Press residency.
Thank you to everyone who came, who celebrated, and who supported this fabulous community of artists.
ACKNOWLEDGEMENTS
This activity is made possible by the voters of Minnesota through a grant from the State Arts Board, thanks to a legislative appropriation from the arts and cultural heritage fund.